For the homeowner looking for something unique to dress up the kitchen, there are a variety of beautiful and unusual countertop materials available. Solid or recycled glass, scrap metal, bamboo, and even paper are formed into durable work surfaces for the kitchen. Many of these alternative materials are also environmentally friendly.
Solid Glass Countertops
Solid glass countertops made from solid glass are durable and very easy to clean. Glass can be formed in nearly any color, with smooth, textured, or patterned surfaces. Various edge treatments are available, from smooth to chiseled. The smooth, sleek aesthetic of solid glass makes it an ideal choice for a modern kitchen. Glass can scratch, so it may be best reserved for light-duty areas.
Recycled Glass Countertops
Countertops made from recycled glass are gaining popularity. Glass fragments in a wide choice of color blends are bonded into smooth surfaces using cement or epoxy resin. Cement is harder than resin, but can be stained from acidic spills such as wine or orange juice if not properly sealed and maintained. Resin counters will look their best with regular polishing using a paste wax. This eye-catching surface can provide a stunning accent in any kitchen.
Scrap Metal Countertops
Another popular recycled material being used for innovative, beautiful countertops is scrap metal. Aluminum shavings are blended with polymeric resin to create counters that are often installed and maintained similarly to more ordinary solid-surface materials. Smooth and textured surfaces are available in a variety of colors. These counters can provide an industrial or surprisingly earthy feel to a kitchen, depending on the finish chosen.
Bamboo Countertops
Durable, renewable bamboo is the ideal choice for the environmentally conscious. Bamboo grows to maturity in less than five years, compared to the decades of growth required for hardwoods. Countertops are often constructed in traditional edge-grain orientations for a typical wood grain look. End-grain butcher blocks have a striking textural appearance similar to parquet. Bamboo surfaces are durable enough to be used as cutting boards; any marks that do occur can be sanded away if desired. Regular oiling will preserve the fresh, new appearance of a bamboo countertop.
Paper Countertops
Paper countertops resemble stone or solid surfacing and are available in a wide range of colors. Although paper may not seem suitable as a countertop material, it is surprisingly strong when processed with phenolic resin and formed into a solid surface. Depending on the type of resin and amount of post-consumer content, paper can also be very environmentally friendly. Installation and maintenance are fairly straightforward; this material is installed similarly to other solid-surface materials, and yearly application of mineral oil or another approved finish will help to keep paper surfaces looking like new.
Specialized Countertop Material Suppliers
---
Copyright 2008-2023 Zeducorp.
All rights reserved.

Alternative Kitchen Countertop Materials
Related Images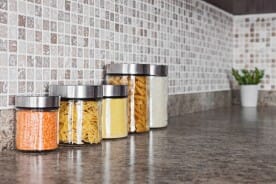 Kitchen Countertop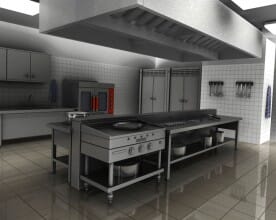 Countertops In A Commercial Kitchen