Today's kitchen designers and architects can select from a variety of countertop materials, such as laminates, granite, and stainless steel; each material is best suited for certain applications. One material may be more scratch resistant; another may be more heat resistant. Along with appearance, cost, durability, and porosity, you should consider these factors when selecting a countertop for your kitchen. You may even wish to use one countertop material in most of your kitchen and a different material, such as a butcher block top, for your kitchen island.
Popular Countertop Materials
Alternative Countertop Materials
Some countertop materials are still relatively unknown. Bamboo, paper, solid glass, recycled glass, and scrap metal are all being used for countertop surfaces by trendy kitchen designers. Bamboo is durable and renewable, and should be cared for like wood. Paper countertops are formed from resin-saturated paper; when heated and compressed, these durable countertops feel and look like stone. Solid glass countertops can be made in a variety of textures, shapes, and colors; they should be used in non-utility areas that don't get a lot of abuse. Recycled glass is becoming more widely used for kitchen countertops. The glass fragments are mixed with epoxy or cement and the resulting material is installed like natural stone countertops. Even scrap aluminum is being used to form countertops. Generally, the aluminum shavings are mixed with a resin and cast. For more information about these trendy countertop materials, visit our Unusual Countertops page.
---
Copyright 2006-2023 Zeducorp.
All rights reserved.

Kitchen Countertop Materials
Related Images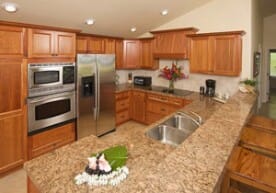 Residential Kitchen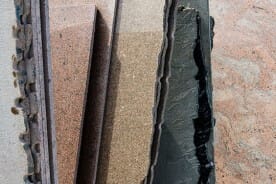 Granite Countertop Slabs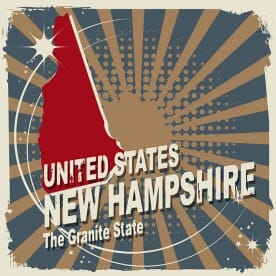 New Hampshire - The Granite State